Let Us Manage Access So You Can Sell
Eliminate the overhead and headache of managing lock boxes with the Master Lock® Lock Box System
Master Lock Connected Products are used by real estate associations, brokerages, and independent agents to streamline and simplify business.

✓ Easily and Securely Grant Access to Agents and Affiliates
✓ Schedule Temporary, Permanent or Future Access
✓ 24/7 Customer Service - No Additional Cost
✓ Integrated with Top Showing Services
✓ Pay Your Way - Flexible Purchase Options
Shop Now
1. Control Access
Share access quickly and easily with showing agents, affiliates or even homeowners by scheduling temporary, permanent or future access. With our partner integrations, you can grant access using real-time appointment data to avoid any unscheduled entries.
2. Simplify Appointments and Showings
Get simplified appointment access for buyer's agents and streamline management for listing agents from your smartphone.
3. View Showing History
Get a detailed view of when your locks were accessed via Bluetooth within Master Lock Vault Enterprise and partner integrations. Save time while providing enhanced security and accountability ‑ whether you manage one property or thousands with Master Lock Vault Enterprise.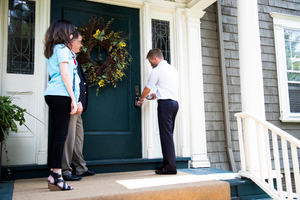 "With Master Lock's integrated lock box system, I'm able to gain peace of mind knowing my listings are secure and only being accessed by authorized users."
Christopher Kinasz, Sales Representative
Right at Home Realty, Inc.
* Offer valid for US shipping and billing addresses only. Discount codes are an invitation-only, limited-time offer by Master Lock for Real Estate Professionals who have received a promotional code. Your promotional code may change or expire; please check your authorized Master Lock communications for the latest code. Each promotional code can only be redeemed to buy select Master Lock Store products for Real Estate Professionals located at: realestatestore.masterlockvault.com. This offer is limited to current Real Estate Professionals located in the United States only. Void where prohibited. Discounts cannot be applied to tether, shipping, processing and taxes. If you place an order using a promotional code and then return or cancel that order, the promotional code cannot be refunded or re-used. This offer is subject to current availability of Master Lock products in your country and is available while supplies last. All items in your order(s) must be shipped at the same speed to a single address and the discount will be allocated proportionally among all items in your order(s). Offer is not valid for software charges, upgrades, or subscriptions. This offer is non-transferable and may not be resold. The offer may not be used on pre-existing orders and may not be combined with other offers or discounts. The offer may be withdrawn or modified without notice. Your use of Master Lock products and services (including any returns) will be subject to the Master Lock and Master Lock Vault legal policies, including Shipping, Return, EULA, Privacy Policy, Terms of Use and other legal policies. If you violate any of these terms, this offer will be invalid.